Sorta FO
I had a rough week. I started clinicals at Oakwood hospital which is 85 miles one way from door to door. I only got to work with a patient for one of the two days I was there and my patient was this very sweet old lady. I couldn't really do much... just made sure that she was comfortable and ordered her lunch. She hadn't eaten for a week before I got there and lunch was her first meal. She was very excited for soup and an energy drink.
So I liked my clinical instructor and my patient. We'll see how this week goes. What's killing me now is the commute. We have to get to Dearborn by 7 am which is very close to Detroit. We're fighting Detroit traffic so my carpool buddies and I have to leave by 5 am at the latest. And we barely get there in time. I drove on Wed and had brought my breakfast to eat when we got there. (It's very hard to eat breakfast at 4 am) But we didn't get there in time for me to eat it so I didn't get to eat until 1 pm! I'm going to have to force myself to eat at 4:30 just incase that's all I get to eat all morning. If I get to have more food later then great. And I haven't been able to get much sleep because of this wicked commute. We had a full day of class on Thursday with a whole bunch of things due. Yesterday, I basically vegetated and tried to wind down. Unfortunately, I did the same today. Oh well, I still have the rest of the night to be productive and all of tomorrow. At least I washed my scrubs...
So what did I do yesterday??? Knit of course! Here's the product of my downtime.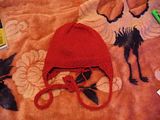 It's the Kitty hat from S&B with no kitty ears. I tried knitting them but couldn't get the placement right. I decided to stop for today since maybe I'm just not getting them right because I'm tired. I'll try again tomorrow. But the basic hat shape is very cute too. I made it out of the Mission Falls 1824 Wool. I love the color but unfortunately hats look horrendous on me. Hence the absence of a pic of me wearing the hat. I'm sure I won't care what I look like when the temp is -30 during the dead of winter. Caution, I bought the 3 skeins specified in the book. I only used a skein and a half. Hopefully Threadbear will let me return the lone skein. If not, I'll buy another skein to make another one as a Christmas present.