Last post in San Diego
Sniff... Sniff...
I'm spending my last day in San Diego packing up my car for the road trip to Michigan. I'm all ready just waiting for tomorrow but I find myself getting more and more sad. I think of all the things and people I'm going to miss:(
I went to AAA and got my trip planned. That is really a valuable resource and I'm glad I signed up for that service. Even if I never get towed, it was worth the free maps and the discounts on hotels and travel.
I spent the week on errands. I hardly got to knit at all which is highly unusual. I did get two new toys to play with. I got a new cell phone and changed my calling plan to a nation wide plan. That way I don't get kicked in the butt with roaming charges and get to keep my phone so my San Diego friends and family don't have to pay long distance charges to call me. And I got a new digital camera so that I can include more pictures in my blog. I got a Panasonic DMC-LZ1 and I love it! It takes great pictures and is really easy to use. Here is a link to the
specs.
And here are a few pictures taken with my new camera.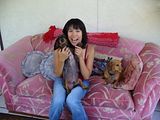 This one is of me and my two dogs Waldo and Wendy.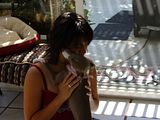 My sister's dog Zoey loves to give hugs and kisses.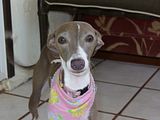 And this is Zoey just mugging for the camera

And no knitting blog post is complete without a shot of WIP.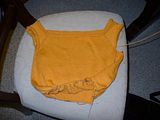 My Tivoli T shirt in the making. I'm almost done with it. Just need to do the wast increases. I highly recommend this pattern. It's easy and best of all, hardly any ends to weave in!

My next post will be on the road or in Michigan...