I made it!!!
I've arrived in East Lansing last Tuesday night just in time to take my Pathophysiology final. I basically moved my stuff into my room, greeted my roommate and had an intense cramming until Wednesday afternoon when I took my test with my proctor.
After visiting Minnesota, my boyfriend Matt and I drove thru Wisconsin. We made a pit stop in his college town, Menomenie,WI. He went to the University of Wisconsin-Stout. Talk about small town... It was on the historic Laura Ingells Wilder highway right across the border from Minnesota and a "river ran thru it".... haha... I've always wanted to say that. It was beautiful but there wasn't much in the way of economy there. Lots of establishments had closed down and a once "lively" mall had two cars in the parking lot. And I think that's because there was a McDonald's next door. Here are a few pictures of the town.
The watchtower of Stout
Downtown Menomenie- Not much going on here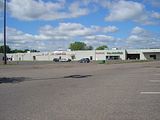 The emptiest parking lot in an American mall (and this was during business hours!)
After we drove thru Wisconsin, we spent a few days in Chicago site seeing and visiting with some of my relatives. We saw the Museum of Art, the original Uno's pizzeria (where we had some Chicago style pizza. I didn't really care for it. Too doughy), the Sears tower, and the Museum of Science and Industry. The
Body Worlds exhibit
was at the Museum of Science and Industry and I finally got to see it. If you ever have a chance to see it, please do. It gives you a sense of how wonderfully complex the human body really is. And here are a few pics of Chicago...
The first one is a Picaso that we saw at the Museum of Art. Unfortunately, I forgot which one. The next picture is actually of a miniature room that is displayed at the MOA. Incredible replicas of European and American rooms miniturized are on display. The Sears tower is an incredible site and even more incredible when you pay $12 to go up the elevator and get a bird's eye view of the city. And of course, if you are a big Oprah fan like I am, you have to get a pic of the studio sign.
After we got to Michigan, my time has been spent buying furniture, putting the furniture together, buying an incredible amount of books, and trying to calm myself down. I drove my boyfriend to the airport this morning. snifff..... I had to cheer myself up by going to THE LYS of Lansing,
Threadbear Fiber Arts.
I touched a whold bunch of yarn but managed to restrain myself to bamboo circulars and some blocking pins for this darned Bird's Nest Shawl that is almost finished. I also got to pet some canines for which I was very grateful since I'm missing my pups terribly. They've got a whole bunch of knitting events that I'll have to tear myself away from studying to go to. You know they're twisting my arm.
Anyway, the first day of school is tomorrow and I have to finish up some reading for class. Can you believe it??? I already have homework and I haven't even been to class yet...