Halfway to Michigan!
I'm halfway to Michigan. Matt and I are in Minnesota visiting his family right now but here are some pictures of some sites along the way.
This is a sight I won't miss. Insane traffic. We were on I-15 on the way to Vegas when a mobile home caught fire in the slow lane. We ended up idling like people in line for a ride at Disneyland for an hour and forty five minutes.
Matt and I at a picture stop in Utah. There were incredible views in Utah and Colorado. I want to go back soon to go camping. Maybe next year after school is over.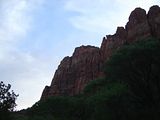 This was taken at Zion National Park. This is an incredible place. Because of the little traffic congestion in Vegas we got here about 2 hours later than we planned and it started getting really dark. The good thing is that there is a shuttle that takes you from designated parking stops in a nearby town to the entrance of the park. From there you take a shuttle that takes you around Scenic Drive. The whole tour takes about 90 minutes and you can stop and board at a number of stops. There are tons of hiking trails but since it was getting dark we just rode the shuttle to get the most amount of overall site seeing. The next time we come, we'll take a few days so we can hike around.
This is another mountain range in Utah. Such a beautiful state...
I'll post more pictures of our cross country drive when I get them all categorized. That is such a pain.
As for knitting... I finished my Tivoli T-shirt. I'll take a picture of it when I get to Michigan. The Bird's Nest shawl is currently the WIP. I want to start something else but all my yarn is stashed behind the driver's seat in my car. And the thought of making my way to it is not something I'm willing to pursue right now. I have everything packed perfectly and don't want to mess it up before I unload at my apartment.
After a few more days here, we have a stop in Chicago before we make our way to MI. Any suggestions for sightseeing will be appreciated!