It's getting hot in here...
I never thought I'd say this but it's almost too hot to knit in San Diego. I live in Rancho Bernardo which is supposed to be around 100 degrees today. For those who don't know, it's inland. It's pretty icky to go outside today.
Needless to say, in this heat I haven't been knitting much. Yesterday, I took a test for my online class that was proctored by one of my friends who works at UCSD. And since I was on the coast, decided to head up to Common Threads in Encinitas. Every time I walk into there, I think to myself, I'm going to miss this LYS sooo much. They are super sweet and have a great selection and great prices. My dream is to open a store just like them. Here's the converssation that went on in my head.
Me: Hmmm... since I'm on the 5, I should head up to Common Threads. I need to pick up some size 2 Addi's and some Rowan cotton 4 ply for Orangina.
Conscience: Well, you still have a few WIPS. What do you need with another one? If you go, you'll have two more WIPs.
Me: But I it's only 20 miles away. I'll just have a looksee...
So I get there and Nancy, the owner, had put some Addi's aside for me so I didn't have to go hunting around for that. So I happily looked around for some Rowan 4 ply cotton. They didn't have the colors I wanted so I checked out the Rowan Glace. Too thick for the Orangina:( I was so sad because they had a pretty pumpkin shade that I would have loved. Nancy did put the 4 ply on order for me and it will be in next week. So I knitted for a few hours with some ladies who stop in every once in a while and knit at the shop. That was pretty fun. When I go into the store to pick up the yarn, I'm going to cast on for the orangina. Here's the color of the 4 ply that I ordered and a pictue of Orangina. I'm sooo excited.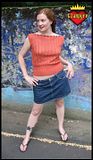 I'm currently knitting the Bird's Nest shawl from Folk Shawls. It's a fun pattern but you cast on 376 stitches and work your way up. It's pretty slow going and I'm done with the repeat. Only 3 more to go! I may not get this finished until winter but it will be worth it when I'm done. I wish I had my digital camera so i could show an in progress pic. Maybe next week.
Since I've been home, I've been watching a lot of the news lately and the big scandel here is that 3 council members of the city of San Diego have been convicted of accepting bribes to overturn the "no touch" ordinance at strip clubs. Now, I have no problems with strip clubs. If men want to go spend their hard earned money at a strip club for dances from girls who could give a rat's ass about them, then they have the right to do that. No one said that politicians should take away people's right to be stupid. But when elected officials swear to serve the people honestly, then I have a problem. When Micheal Zucchet and Ralph Inzunza resigned the maintain that they were only doing business as usual. And that the bribes were designated for "official campaign funds". Yeah right. No wonder the public has no confidence in our government. We can't trust anyone to do anything honestly.
I woke up this morning to news about an attempted bombing in London. Gosh, these people never stop. I feel for the people of London and hope that their wills are not broken. It must be tough to go through this twice in two weeks.