Here's some pictures...
I decided to post some pictures of my some new additions to my stash and a WIP. Here's a pic of all my yarn that I received in the mail last week.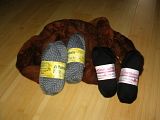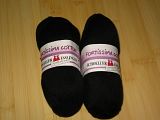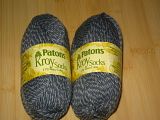 The first picture is a shot of all my yarn together. That was fun. If you head over to the black yarn that's some Fortissma Cotton Sock yarn in black that I plan on using for socks. The next shot is 2 skeins of Paton's Kroy Sock Yarn , also for socks. I bought both yarns from Ebay but from different vendors. I won both auctions back in the last week in June and just got them yesterday! I had no idea that it took that long for something to get shipped. I've had shipments from Elann come in 3 days and they're in Canada... The last two pics are of some lace weight wool that I got from www.handpaintedyarn.com. It's the roanoke shade and what a difference flash makes in the images. It actually looks more like the picture on the left. But it's beautiful yarn and a fairly inexpensive price. I got 3 hanks of wool at $5.85 a hank. Including shipping it came out to around $20. One thing...when I opened the package, the yarn was damp and smelled of vinegar. I guess they just got done dyeing it.
I also have several pictues of my honeymoon cami. I'm knitting it with French Vanilla Microspun and size 6 Denise Interchangeables. I'm pretty happy with the way its come out.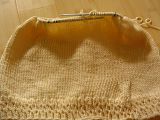 One more inch of knitting and I'll be ready to shape the V-neck and back. Here are some closeups of the lace edging...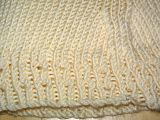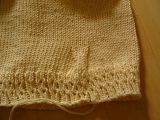 I might be able to show off and FO at the end of the week.

And for good measure, I thought I'd post a pic of my babies sleeping. Which is what I wish I could do. Don't you wonder what dogs do with their day??? Chase some lizards, meander to the food bowl, bark at imagined intruders... Sometimes I wish I was a dog.