Finally took some pics!
Just wanted to share some FO's. I finished knitting them a while back but as you know... finishing is a bitch. I did that this afternoon. I finished the Baby Albert sometime in June. I really should keep better track of my start and finish time on projects. I knit this with Plymouth Dreambaby DK in royal purple using Denise size 5 needles. I made the 12 month size for my friend Angie's baby, who I will be seeing tomorrow. Hence, the finishing. The pattern is really simple. Garter stitch in a couple of directions and you sew up the sleeve and partway along the front. Then the buttons. Sewing the buttons are a bitch. The buttonholes are yarnovers which make them pretty hard to find. The next time I make this, I'll embroider around the buttonholes. (yeah right... but it's a goal) Then weave in the ends and you're done. I took pictures with and without flash. What a difference it makes in the way the color appears on the monitor! There's also a picture of the ladybug buttons since I love them and think they make the color of the jacket "pop".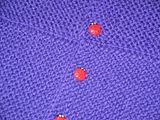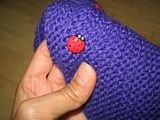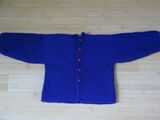 I also got some pics of the Honeymoon cami. Overall I was pretty happy with the outcome of this tank. It fits ok... I got gauge with size 6 needles with Lionbrand Microspun in French Vanilla. But the size 32 came out a bit on the baggy side, I think. I do want to make this project again but I think I'll try to get a smaller gauge to make it a little more "shaped". Not that I have much of a figure anyway. You'll see in these pictures that I haven't woven in the ends yet. That's done now though. I was contemplating on making the straps shorter but I got lazy. Hopefully it doesn't show too much skin...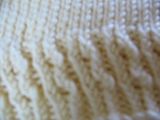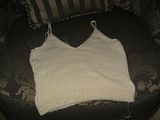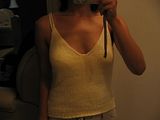 Note to self: It's easier to take a picture of yourself in the mirror than trying to use a timer on yourself...